WEBSITES CREATED FROM SCRATCH, WITH PURPOSE.
Serve your objective, please your customers.
Your website will be created to help you reach your own commercial and marketing objectives.
This is why I keep your customers in the heart of every decision. By offering them a great experience, you will drive business growth.
From one small business to another
I understand the challenges that comes with owning a small business. Your business is in constant development and I want your website to match the stage your business is at now, without compromising the growth possibility of tomorrow. Your website will be tailor-made and flexible. It will match your current needs whilst keeping in mind what you are planning in the future.
Helene & Co. was born out of passion for creation and problem solving.
After 10 years in Digital Marketing building strategies to grow small and medium businesses, I decided to use my marketing and commercial knowledge to design websites that fit in a broader business strategy.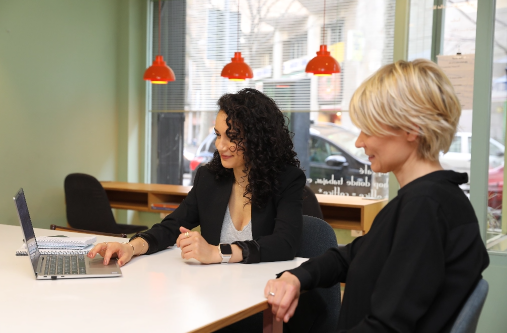 WEBSITE
DESIGN
DEVELOPMENT
OPTIMISATION
AUDIT
I use data to understand your customers and offer them effortless user experience.
The process to build your website
We will spend time talking about your business: your business model, your customers, your objectives… and if you don't have all the answers, we can figure it out together!
Helene & Co. is also a team of trusted partners that can accompany you beyond the website creation.
This is where strategy, data and business understanding come together to design the experience we want to give your customer.
No fancy colours or shapes, just a simple prototype of your website's structure and how we want your customer to interact with it.
I use your brand identity (logo, colours, font…) to turn the prototype into a web design that will reflect your business. No templates that you will see somewhere else!
Your customers are unique, so they deserve a unique interface!
Once you are satisfied with your design, it is time to show it to the world!
You have options. I can take care of developing it for you, or if you have your own web developer, I can send them a link displaying your website design and everything they need to work will be downloadable.
What they say about my work
"Hélène is wonderful to work with! She designed a beautiful and functional website for my business and continues to be so kind and helpful. Highly recommended her and her work!"
"Hélène is successful because she masters the critical balance of knowledge, resourcefulness, urgency and creativity with the key ingredient of gut intuition. She supports this with a very calm and strong style which is extremely effective and quite rare in her industry."
"Hélène did a fantastic job of helping us revamp our website. Helene provided useful feedback on the design changes, met our budget requirements, and executed the changes professionally. We are very pleased with the outcome of the work and the experience collaborating with Helene. Highly recommend!"
"Hélène designed my website, from design to development. She is very creative, professional and always makes herself available when needed. I only have good feedback from my clients about my website!"
"Hélène has gone above and beyond helping me build my law firm, W & Co Lawyers. She is extremely knowledgeable, but communicates in a way that is easy to understand for people like me who have no understanding of digital marketing. If you're starting a business, or you want to build a strategic website and strong brand, I highly recommend Helene & Co for a first class service."